Rockford — Students at Belmont and Meadow Ridge Elementary schools will start the fall of 2023 with new furniture to rock, swivel and learn on.
In February, Rockford's Board of Education unanimously approved the administration's plan to purchase new classroom furniture for both schools, after a multiyear discovery process to determine how to spend voter-approved bond money allocated for that purpose. The expenditure is part of the $174 million bond passed in 2019 to "create collaborative and innovative learning spaces" for Rockford Public Schools' nearly 8,000 students. 
Assistant Superintendent of Human Resources Korie Wilson-Crawford shared the history and purpose of the furniture project at a February school board meeting.
"We started to look at how Rockford could transform its learning spaces into 21st-century spaces where kids can work on collaborative skills … and they can engage in the instructional material in a way that is very meaningful for kids — that provides very unique experiences for them," she said.
After voters approved the bond proposal in 2019, the district moved quickly to create the Classroom Environmental and Equipment Task Force to engage teachers, architects, experts and students before ordering furniture from suppliers.
The three-year planning process included gathering ideas from teachers and students, consulting with learning experts and running furniture pilots in 40 classrooms during the 2022-23 school year. Wilson-Crawford said that project was undertaken in part because the usable life of the district's existing furniture was coming to an end, with over 90% of school buildings in Rockford last furnished before 2000.
"Classrooms shouldn't look like they did in the '50s, '60s and '70s," she said.
21st-century Classroom Comes to Life
In teacher Zach Mosher's fourth-grade class at Meadow Ridge Elementary School, this 21st-century classroom looked like a highly-configurable space with chairs that allow students to move as they learn.
Assistant Superintendent of Instruction Mike Ramm said that their furniture choices were heavily influenced by extensive research on the positive impact that rocking, swiveling and other micro-movement can have on attention and learning.
"We know that movement while a student is in class is going to stimulate some academic ability and brain space," he said, citing research by Dr. Dieter Breikhecker from Germany's Federal Institute for Posture and Movement.
Mosher's classroom also includes lightweight desks that can easily fit together in groups of different sizes or be pulled apart for more individual work. The desks are designed to be moved regularly throughout the day as learning activities change. Other soft-surface pieces create nooks where students can dive into a good book or find calm when overwhelmed.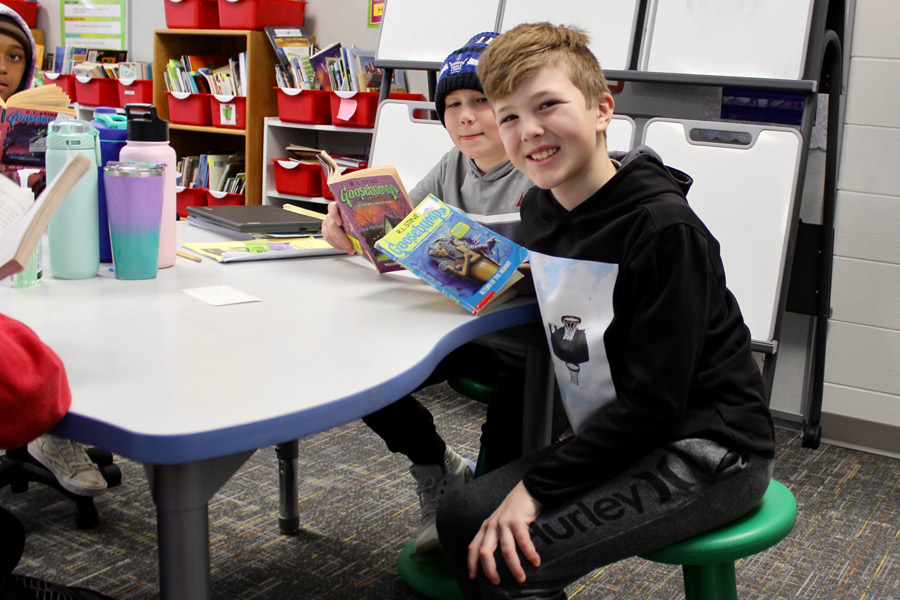 Purchasing Begins for Fall Rollout
After analyzing feedback from teachers and students in furniture pilots like the one in Mosher's classroom, Rockford officials have begun their furniture purchases from a single vendor, (V/S America), with a limited number of well-reviewed pieces that teachers can configure in any way they'd like.
 'We know that movement while a student is in class is going to stimulate some academic ability and (increase) brain space.'

—Mike Ramm, assistant superintendent of instruction, Rockford Public Schools
Once Belmont and Meadow Ridge are outfitted, other schools will follow through fall 2025. The furniture pieces chosen for each classroom will be geared toward the developmental needs of the students on that grade level.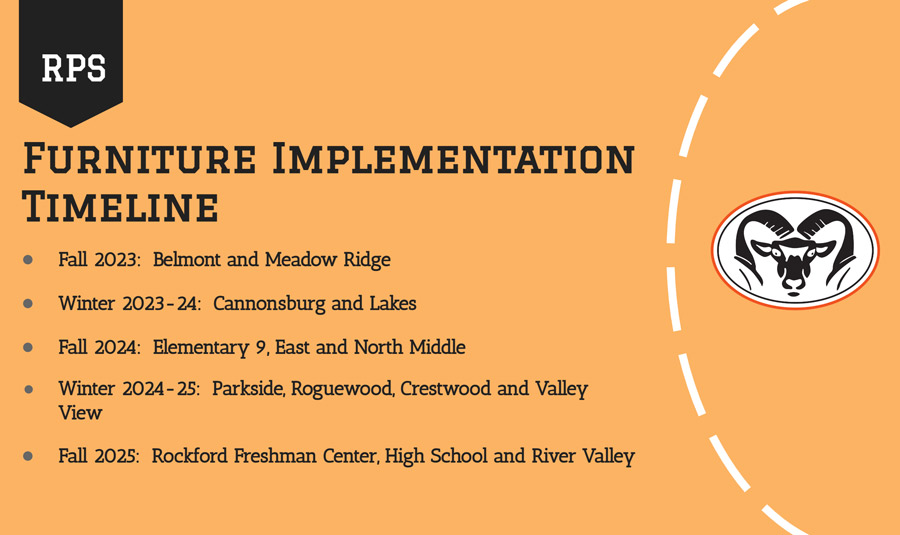 As the furniture is rolled out throughout the school district, there may be changes to the specific pieces ordered initially for Belmont and Meadow Ridge depending on feedback from teachers and students. It's likely, Wilson-Crawford said, that pieces from other vendors will be ordered as well.
"We're going to keep learning as we go," she said. "And so you may see something a little bit different for Cannonsburg and Lakes (elementary schools) or you might see something that isn't different if we really hit it out of the park."
The Future for Old Furniture
The district's aging furniture may find some continued use, Wilson-Crawford told the board. Some will be recycled and some may be auctioned, she said.
"There are different organizations that can take the furniture and use it in disadvantaged parts of the world or in this country," she said, adding that there would be some pieces that the district keeps.
'Classrooms shouldn't look like they did in the '50s, '60s and '70s.'

— Korie Wilson-Crawford, assistant superintendent of human resources 
Administrators are eager to see how the new furniture complements other changes the district has made in recent years to transform the classroom experience.
By fall of 2025, Wilson-Crawford said, "all of our district will be outfitted with fixtures and furnishings that match what we want for our students from a learning perspective, a physical perspective, and what will help our teachers to be able to deliver that high quality instruction that we are accustomed to." 
Quick Furniture Facts
• Rockford's classroom furniture project began right after voters approved a $174 million bond proposal in 2019.
• Approximately $17 million to $18 million is committed to purchase new furniture for the district's 13 school buildings.
• The Board of Education approved the purchase of classroom furniture for Meadow Ridge and Belmont Elementary for fall 2023.
• All school buildings in Rockford will be fully outfitted with new furniture by fall 2025.