Sparta — For junior Isabel Gauthier, art is life.
As a child, she was always drawing. When she was in middle school, she would leave drawings every day for her PE teacher, who also taught high school art.
Art now helps her deal with life's challenges, which is why she's a huge advocate for keeping art in schools.
"At restaurants, I would draw. Me and my siblings would draw," Isabel said. "My nana was very artsy, so all we could do at her house was make crafts and draw stuff.
"My nana … got me into (art) lessons. I hated it for a long time because I was young — going to sit with a lady for two hours was so boring at the time. As I got older, I slowly became a lot like my teacher. I realized I loved art and I liked how you can express yourself with it."
Art as a Coping Mechanism
On Sparta High School's daily newscast recently, Isabel presented a portfolio that told her story of dealing with an eating disorder.
"The whole portfolio I showed on Spartan News was dedicated to dealing with anorexia," said Isabel. "Freshman year, I fell into anorexia. When I got help from doctors and nutritionists, instantly I just had the urge to make drawings about it and talk about it and just be an advocate against it."
To start the process, Isabel drew a self-portrait of how she saw herself in the beginning of her struggle with anorexia. She said the portrait illustrates the negative thoughts that were in her head and the rules she thought she had to follow.
"It's one of the toughest drawings I've ever done," she said. "I drew the picture out two different times. I had body dysmorphia — it's hard to draw yourself; you don't know what you look like"
Her high school art teacher, Don Crawford, and her classmates helped her through the process: "That's one of the main things that helped me draw it so well," she said. Throughout her portfolio, she illustrates the people who have helped her, including her parents. A drawing of hands represents the whole community, she said.
 'I think that having an art class for kids to use as an outlet is so important — I'm just another advocate for it.'

— Junior Isabel Gauthier
Crawford said he looked forward to having Isabel and her deep thoughts as a student in high school.
"What impresses me most is not only is she a good drawer, (but) she is able to take larger concepts and ideas and thoughts and feelings and add them to her artwork," he said.
"Art helps her to deal with situations in her life, too, which I love because I've never heard Izzy complain about anything. … In today's culture, everybody always blames things on somebody else — Izzy never does that."
Crawford also noted that Isabel uses what she learns from life situations to help other people: "That is such a mature and sophisticated and a servant-like heart — I'll cry pretty hard when she leaves, that's for sure."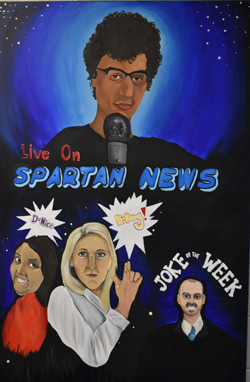 Societal Pressures, Artistic Encouragement
One of the things that Isabel loves about art is how it can encourage other people. She said many students have reached out to thank her for sharing her experience; others have told Isabel that her art has helped them come up with ideas of their own to express artistically.
"I got a lot of messages of thanks," said Isabel. "I think that's the coolest part for me. I love to see people do the same things with (their) ideas.
"One of the main factors in me falling into anorexia was everything on social media — being a teenager in today's society and dependent on social media," she said.
"It's sad because people post their most highlighted and filtered parts of their life online, and it just makes you feel like you're not enough, or you're not right the way you are. But I hope that my drawings that I put out there show kids in my generation that it's not reality, and it's not true."
That's one of the reasons Isabel is so passionate about art education in schools. She recalled with gratitude Crawford's habit of leaving his classroom door open after school, making the space available to any students who wanted to draw, think or both.
"I used to stay here after school for hours and sit and paint a mural," she said of the art classroom. "I think that having an art class for kids to use as an outlet is so important. I'm just another advocate for it."
"Art helps you to look more closely at the beauty that's around us, and we need beauty," Crawford said. "I want to give (students) a little taste of beauty in my art class — that they can do something beautiful, and it changes them a little bit for the better."
Art by Iz and Future Plans
During the pandemic, Isabel started a business, Art by Iz. She began making car air fresheners with customized wood slices using essential oils, which she and her sister sell at craft shows during the summer. She also advertised her drawing services and soon was commissioned to draw family portraits, pictures of pets, and "lots of different things."
"I think it would be really cool to have my own small business on Etsy one day," said Isabel. "But it's kind of too much with school and stuff so I stick with just the craft shows during summer."
Isabel plans to make a living off her art and hopes to pursue a degree in the field.
"I'd like to go to school for art," she said. "That's one of my big dreams, and being able to find a career that I can get a steady income from art. I was hoping my business could kind of get my name out there."
Read more from Sparta:
• Barriers reduced in PE class
• Learning about macromolecules through banana bread