Sparta — Fish stories abound at Sparta Middle School.
And the growing middle school fishing club has pictures to back up those stories, pictures that are generating enthusiasm for the club aimed at getting students outside.
Sixth-grader Kayden Holmes fondly remembered catching two bass.
"I just really love to go fishing, and I loved going to fishing club meetings to learn new things and make new friends, too," he said. "I love that the fishing club is a thing at our school."
Fellow sixth-grader Preston Hoogerhyde, who also recalled catching a bass, said he loves going on fishing trips (and) hoping to catch big fish. Once photos are taken, all catches are released. The group currently has about 20 members.
Middle school social studies teacher Bob Toole leads the club. It began in January and after-school trips took place in the spring, but Toole hopes to do a couple of fall trips next school year. All excursions are local to maximize fishing time.
Early in his 28-year teaching career at Sparta, Toole would meet with students during lunch to share his fishing knowledge.
"It was Fishing Friday Club back then," he said. "It was a way to connect with the students and share a passion with them."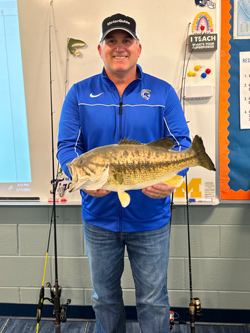 Post-pandemic Activity
With his own growing family and increasing demands at school, the club was eventually phased out. But after students returned to the classroom once COVID restrictions were eased, Toole felt the need to restart it.
"Kids were more attached to digital devices; they had limited experiences," Toole said. "I felt called to reconnect with them. I had a surplus of tackle; I was giving stuff away and putting things into kids' hands, encouraging them to get out and fish."
Word got around, and more students were asking about it.
"I'd teach them how to fly fish. Our principal, Brad Wood, joined us and brought in some of his fly-fishing gear, so we were able to bring the kids outside and give some kind of first-hand instruction."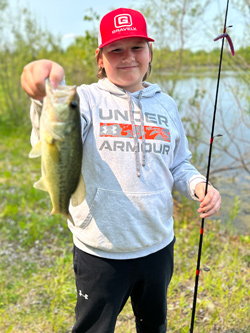 The club received grants from the Sparta Education Foundation and the Grand Rapids Community Foundation. D&R Sports in Kalamazoo also contributed. Toole noted that individuals have been generous as well with donations and supplies.
During club meetings, along with instruction and videos, students created wish lists online after researching fishing gear. "So I was excited to gift the kids with a tackle box with several items from their wish list," said Toole. "Then a Sparta community member granted us permission to fish on a local private lake and so we took two fish outings there — that was a blast — I am so grateful and thankful."
All fishing is done from the shore.
"The last outing was perfect," said Toole. "It was all smiles and no problems.
Read more from Sparta:
• Fishing, scavenger hunting in the great outdoors
• Barriers reduced in PE class