Wyoming — Fifth-graders at Wyoming Intermediate School are showing they give a hoot about endangered animals.
Students — inspired by the novel "Hoot" by Carl Hiaasen, about children working to save the habitat of owls — advocated to save species threatened by hunting and habitat loss around the globe.
"I feel bad for these animals, because people that want money don't care … What if you were an animal and your mother gets poached and killed for money?" said Paytin Mckenna, who is working to protect African forest elephants with partner Alyssa Humphrey.
"People don't understand that these are living beings in this world too. They got put here for a reason, not to just be killed and used for money," Alyssa added. "It's not just elephants. It's lions, it's sheep, it's wolves."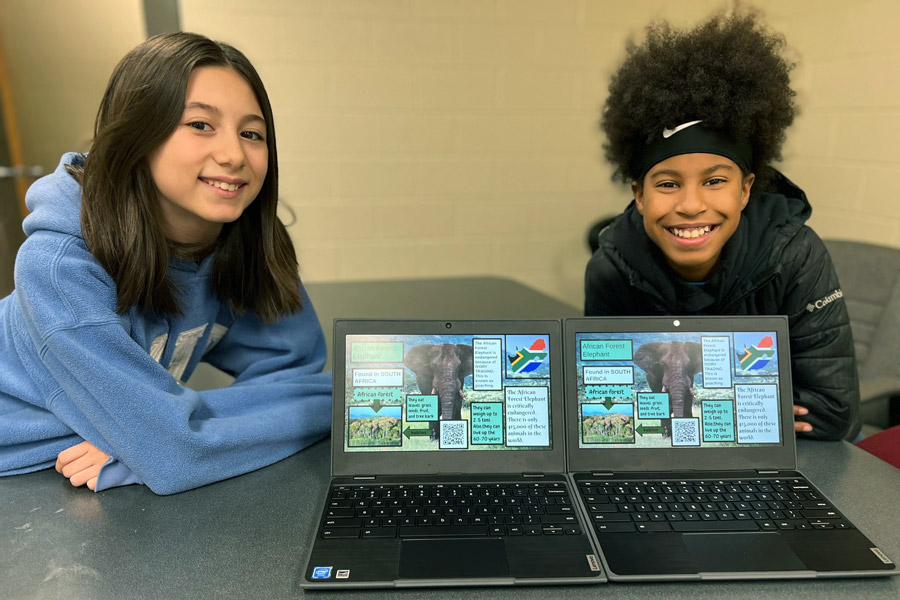 Teachers Johanna White, Harmony Hitchcock and Autumn Knapp used the novel as part of an English Language Arts unit on argument and advocacy, in which students study issues, write opinions and debate.
Students then chose their own animal to advocate for through a research project. They researched facts about their animals — African forest elephants can live to be 70 years old, for example — through National Geographic and other sources, and created flyers with information, photos and even QR codes
"From the very beginning, the scholars were rooting for the owls and felt very passionately about the outcome of the novel. It was a natural 'teachable moment' to lean into and let the kids advocate for an endangered animal for our school community to symbolically adopt through the World Wildlife Fund," White said.
Students in the three classes and staff members school-wide voted for their favorite project — the one to donate to as a class and the animal they will adopt. Principal John Blackburn made the donation on behalf of students.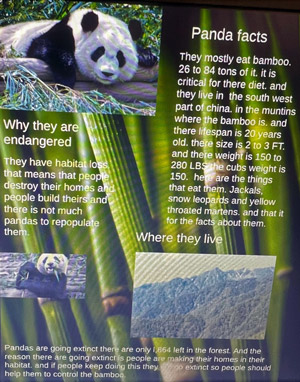 Saving the Giant Panda, Orangutan
Fifth-graders Jameson Engvall and Brandon Komb won the most votes for their project on the giant panda, and that means the donation through WWF goes toward the panda. (The class gets a stuffed panda.)
Jameson and Brandon included facts about the black-and-white bear that is losing its main food source.
"People destroy their homes, and they suffer from habitat loss," said Jameson. "People shouldn't hurt animals because that hurts the ecosystem. If there is no ecosystem, we have no food or water."
Brandon explained how bamboo feeds the vegetarian bears. "They are actually really strong. Bamboo helps them get stronger and helps their jaw, because of how hard it is to chew."
Jameson and Brandon said they hope their work builds awareness.
"I hope people stop using their food supply," Brandon said.
Ethan Sneed, Elmin Podrug and CJ Brown advocated for the orangutan. They want people to stop building on the habitats of the fruit-loving primate.
"One reason people should stop cutting down rainforest trees is because the trees have fruits on them that orangutans eat, and orangutans might not want to eat bugs all their lives," CJ said.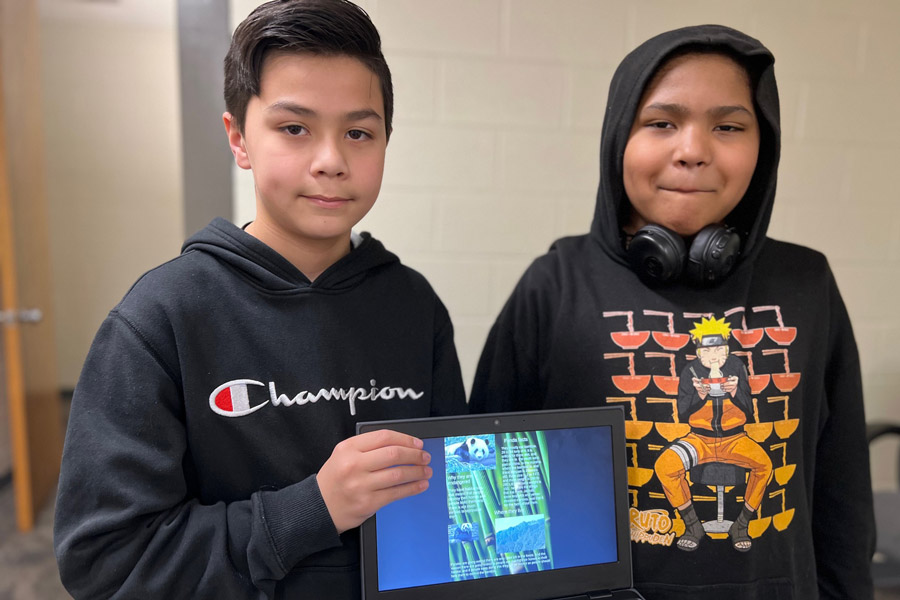 Working for Awareness
White said she hopes students learned the impact they can have, even as fifth-graders.
"I hope they learned each and every one of us has the potential to make a difference," she said. "Reading a book for school really did result in our school community coming together to symbolically adopt an endangered animal."
Paytin said she's just glad more people are learning about endangered animals.
"It makes me empowered and kind of sad to know that this is happening every day, but I like talking about it because it makes other people acknowledge and aware of stuff like this."
Read more from Wyoming:
• Patient parapro + purposeful play =preschool progress
• Winning the argument