Kent City — On a typical day, School Resource Officer Deputy Chad Wells spends his time stationed at Kent City Elementary School walking the building and greeting kids, who are always interested in what he's up to.
"They're just excited to see that I'm a police officer, get to know me and then shake me down for stickers and tattoos," Wells said.
On the Monday morning after a Friday off because of a threat of school violence in Kent City, his natural ability to build relationships with students took on even greater meaning.
Just days before, Superintendent Bill Crane had canceled classes after the district was made aware of an alleged threat made by a seventh-grade student and posted on social media. In light of recent mass shootings at Michigan State University and at schools in Nashville, Tenn. and Oxford, Mich., Crane's first thought after hearing about the threat was to do everything he could to protect the students and staff in Kent City.
That was Deputy Wells' first instinct, too. He was equipped to step into a different side of his role as school resource officer than he typically would on a day-to-day basis, by acting as a liaison between the Kent County Sheriff's Department and Kent City Community Schools during the crisis.
'Early on in my career we had the Sandy Hook massacre, and I knew in that moment that I wanted to be an SRO. … (T)here's no greater moral obligation than to protect children.'

— Deputy Jon LaSotta, school resource officer for Kent City Community Schools
A new Kent City school resource officer hired in January, Deputy Wells spent over a decade in the Kent County Sheriff's Department — much of that on patrol in northern Kent County. In fact when a local family called 911 on Thursday night to report the threat of violence to Kent City Schools, it was Wells' former patrol partner who gave him a heads-up that the call had come in.
"As soon as he saw it, he called me, which then prompted me to call Bill (Crane) and then … one of my other partners … called me and I gave him some information on the kids (who were involved in making and reporting the threat)," Wells said. "It worked really well just how everyone was on the same page and we all got it figured out as quickly as possible."
When Kent City Elementary School's administrative assistant Deb Williams woke up to get ready for work on Friday morning, she was surprised by the voicemail she received telling her to remain at home. Instead of feeling fear, she felt confident in the district's response given the presence of Deputies Wells and Jon LaSotta, Kent City's other school resource officer.
"They were on top of it," said Williams. "It really seemed like they took all the steps that they needed to to keep us all safe."
State Dollars Funded New SRO
Until recently, Kent City Elementary school didn't have a school resource officer whose sole job was to keep their school safe. When new funds came in this school year designated by the Michigan Legislature to enhance school safety, Kent City officials moved to get a second officer to work with the other SRO stationed at the middle and high schools. The decision to hire Wells came in part because the nearest sheriff's station is not close by, said Superintendent Crane.
"By having two school resources stationed in our buildings, we know we wouldn't have to wait for an officer to be dispatched from the North county substation," he said.
Deputy LaSotta, Kent City Middle and High School's SRO, was on bereavement leave when Wells received the call about the threat on Thursday night, but chose to return to work one day early so that he could plan the district's threat response in collaboration with his colleagues. The deputies met on Friday to finalize the district's next steps, including a detailed letter to reassure parents that the threat was no longer active.
"We wanted to make sure that we put out as much information as we could to hopefully ease some of the anxiety or stress about having school (Monday)," Crane said.
Some parents were still contacting district administrators over the weekend, but Crane said that he was able to reassure worried parents that no threat remained.
'It really seemed like they took all the steps that they needed to to keep us all safe.'

— Deb Williams, Kent City Elementary administrative assistant
By Monday afternoon, LaSotta said that students seemed to be calm and relieved of the stress created by the initial threat. Some of that is likely due to the fact that they see trained deputies around school grounds keeping watch throughout the day, he said.
A situation like the one the community experienced on Thursday night and Friday reminds him of why he wanted to become a school resource officer.
"Early on in my career we had the Sandy Hook massacre and I knew in that moment that I wanted to be an SRO," LaSotta said. "Especially with everything that's going today — and you can talk politically on both sides of it — but there's no greater moral obligation than to protect children."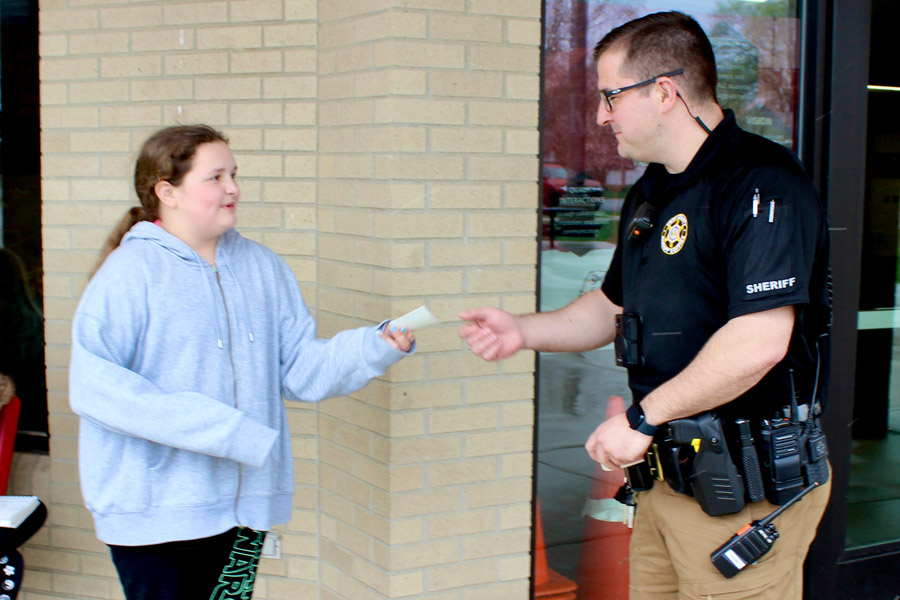 Parents Played Key Role
After he'd had time over the weekend to reflect on his district's response to the crisis, Crane was grateful for the parents in Kent City who called the sheriff's department.
"We were able to jump on this right away because someone came forward and made a call," he said. "We're going to do everything we need to do, but we need the help of families in the community to make sure that we're aware of things that may be taking place."
In the future, it will also be helpful to have a situation to point students to when they talk about creating and maintaining a safe school environment, Crane added.
"We can say, 'Look, this is what happened. This is what is the result of someone's actions. It's not a joke and we're going to take them seriously.'"
And if safety threats ever do arise in the future, students will know that school resource officers like Deputies Wells and LaSotta are there to offer protection — and a few fun stickers too.
More About the Threat to Kent City Schools

On the evening of Thursday, April 13, Kent City School Resource Officer Deputy Chad Wells received a call from the Kent County Sheriff's Department about a threat made to the district's schools. The social media post "included a video of a firearm and conveyed a threat of a potential school shooting to take place on April 14th," according to a letter to the community from Superintendent Bill Crane. Parents of a student who'd heard about the threat made the initial 911 call.

After conducting multiple interviews with the families and students involved in the incident, Kent City's school resource officers and other officers from the Kent County Sheriff's Department completed the investigation and deemed the threat to be no longer active. 

A charge of intentional threat to commit an act of violence against a school, employees and students is being brought in Juvenile Court against the 12-year-old Kent City Middle School student alleged to have made the threat, said sheriff's Deputy Jon LaSotta. The student reportedly told deputies he sent a video that he did not make to a friend as a joke. The student is currently not allowed to attend school and the district is discussing terms of a long-term suspension. 

More information about the incident can be seen in this letter from Crane.