Grand Rapids — Twin brothers Roberto and Rogelio Lopez recently practiced using one of four new AC/DC training systems that teach basic principles of electricity.
While tinkering with wires on the device until it made a long, loud buzzing noise in the Academy of Science, Technology, Engineering and Math at Innovation Central High School, the sophomores said they enjoy using machines and technology during their school day.
"I like to do a lot of building and experimenting with electricity," said Rogelio.
Added Roberto: "I like to do hands-on types of work. It's fun."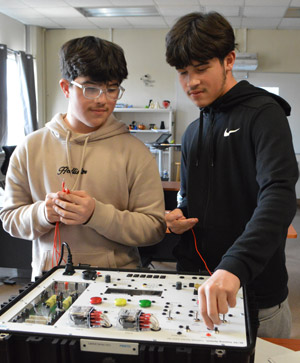 The 85 students in ASTEM — one of five academy programs offered at Innovation Central — including Roberto and Rogelio, are developing skills in manufacturing and engineering with new equipment and other opportunities, thanks to the launch of the SME Partnership Response in Manufacturing Education program at their school.
PRIME is the signature program of the SME Education Foundation, the philanthropic arm of the Southfield-based nonprofit association committed to advancing manufacturing technology and developing a skilled workforce.
Innovation Central is one of 33 Michigan schools involved in PRIME, funded by a $6 million appropriation by the state of Michigan in 2021.
To date, SME PRIME is in 81 schools across 22 states, serving 8,000 students. As of 2022, 91% of PRIME seniors pursue manufacturing post-high-school — either through a manufacturing-related degree or by directly entering the workforce, according to the foundation.
Preparing the Next Generation
Representatives of SME, plus students, teachers and parents recently gathered for the launch of the program at Innovation Central. Along with equipment, PRIME is providing the school with curriculum, professional development for teachers and funding for extracurricular opportunities. Students also have opportunities to apply for scholarships.
There is major demand for jobs in manufacturing nationwide, and the goal is to fill that demand.
'We're building new classes to take advantage of new elaborate equipment. We've done a lot and there's so much more that we can do.'

— STEM teacher Elisabeth Gies
Shelly Wooley, SME's national director of education programs, said the foundation exists to prepare and support the next generation of manufacturing and engineering talent. PRIME is its signature program.
"We are tasked to help our educational partners strengthen manufacturing-based and engineering- based educational opportunities in high schools," Wooley said.
Along with the AC/DC units, students now have three new 3D printers, a mechatronics lab, two robots and other tools to add to existing equipment.
"SME has brought us so much equipment. We have enthusiastic instructors to take it on," said STEM teacher Elisabeth Gies. "We're building new classes to take advantage of new elaborate equipment. We've done a lot, and there's so much more that we can do."
Read more from Grand Rapids:
• Learning about the art of the possible
• Planting seeds of interest