Kent ISD — Northview senior Sam Sterk opened a freezer door and announced "There is money in the freezer."
Next, she carefully opened the refrigerator door below, and two small bags of white powder tumbled out and to the floor.
"And we have 'cocaine' in the refrigerator," Sam said of the fake substance.
Sam and other students in Kent Career Tech Center's criminal justice program moved through a makeshift crime scene, identifying evidence that a second group then, in crime-fighter parlance, bagged and tagged.
The simulation was part of the week-long Homeland Security Investigations Cadet Academy, where students got a firsthand look at what that organization does and study actual cases.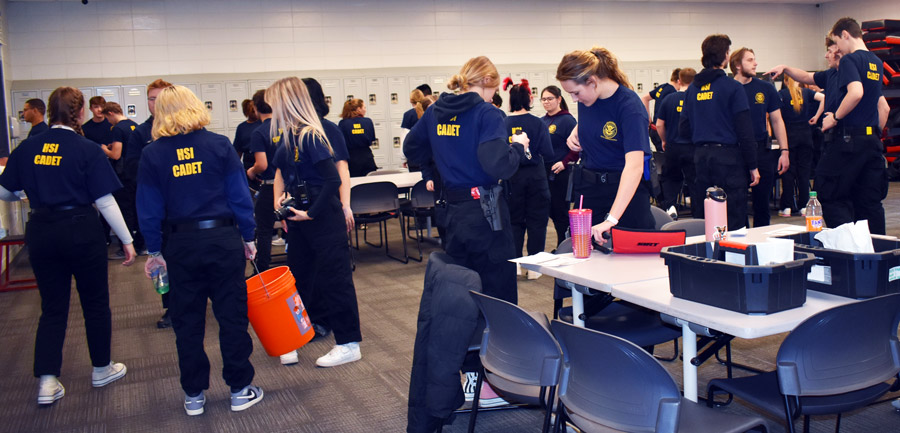 Developing a Passion for Law Enforcement
Started in 2018, the Cadet Academy was developed through a partnership with the Tech Center's criminal justice program and Homeland Security Investigations, the principal investigative arm of the U.S. Department of Homeland Security.
Jeremy Pierczynski, HSI Grand Rapids resident agent in charge, created the program — the first of its kind in the nation — by working with Tech Center criminal justice instructor Gregg Isenhoff.
"This is an opportunity for the students to take what they have learned in the classroom and apply it," said criminal justice instructor Martin Brown. "The more you practice, the more proficient you will be."
Homeland Security agents mentored the students and role-played as suspects, reenacting what they have experienced when investigating, interviewing and prosecuting cases.
"It provides an introduction into what Homeland Security does, so students can consider whether 'This is the career I want to jump into,' or 'No, I would rather work in the state, the county or locally,'" Brown said.
Students received the cases on Monday, then worked to identify a suspect, gathered evidence, presented their case to a grand jury and then made an arrest. Topics covered included how to investigate bulk cash, cryptocurrency and dark web activities. They also worked to develop skills in investigative surveillance, search warrants, grand jury testimony, arrest warrants and interviewing.
"It's great to work with these students and watch them discover their passion for law enforcement," Pierczynski said. "Through this program, we're able to connect them with opportunities and pathways to help them realize their career goals, whether that be with Homeland Security Investigations or beyond."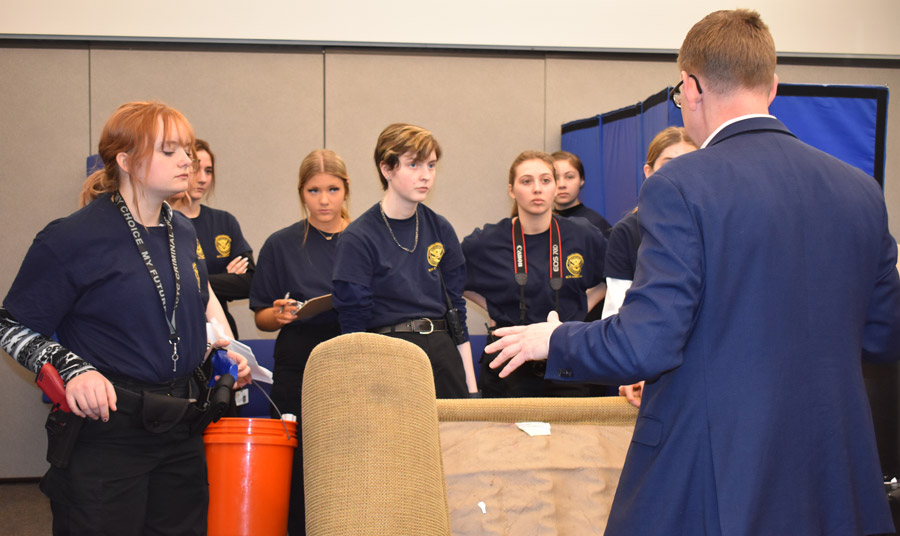 People Skills, Life Skills
Back at the crime scene, Homeland Security Supervisory Special Agent Michael Larson told students to spread out so each room is investigated thoroughly.
After the exercise, students and agents discussed what the students did well and what can be improved.
"There is a lot you learn in the classroom, but when you are out in the field and actually doing it, sometimes things do not always go the way you think," Larson said.
Ethan Welsh, a senior at Sparta, said the simulation gave a sense of what could be faced in a real-life situation.
"It makes you think through things better, along with a sense of how to deal with a complaint," Ethan said. "You also have to learn how to deal with situations on the fly. It is not only great people skills, but life skills as well."
Sam said that besides being fun, the academy "really gives you a glimpse into the daily activities of a field agent.
"I really wanted to take this class because it provides so many aspects of law enforcement, from CSI to Homeland Security. It teaches not only about law, but about defense tactics and other key skills. It is better than sitting behind a desk all day, because you get all of the hands-on experience stuff."
Read more from Kent ISD:
• New initiative aims to connect students with careers & schools with employers
• Hands-on learning means expanded skills