Kent ISD — It is a box that has the potential to withstand the tremendous G- forces created when rockets launch. And oh, it's edible.
The space-saving consumable packaging was designed not by aeronautics scientists but by Cole Herring and Abby Tichelaar, students in the Launch U program, a partnership between Kent ISD and Grand Rapids Community College.
Their effort was one of 22 finalists in the Health and Biomedical Science category of the NASA HUNCH competition.
NASA HUNCH challenges students around the U.S. to create innovative products that could be used by the aeronautics and space agency. Each of the competition's eight categories undergoes a critical design review that determines who will go to Houston to present.
Cole and Abby's review took place via a video and brochure they created, and the pair got some practice presenting at a February preliminary round for the NASA HUNCH culinary program, in which two GRCC/Ottawa County Intermediate School's Careerline Tech Center students participated.
"I expected a lot more older people or people who were interested in engineering to come, but it turned out to be a whole bunch of kids and their parents who came (to the February event)," Cole said, adding they got a lot of positive feedback about their design.
"They had no idea about any of the engineering, so you'd have to explain it to them. I think that was really great, because I think it helped get more people to understand the project without necessarily having to understand the engineering behind it."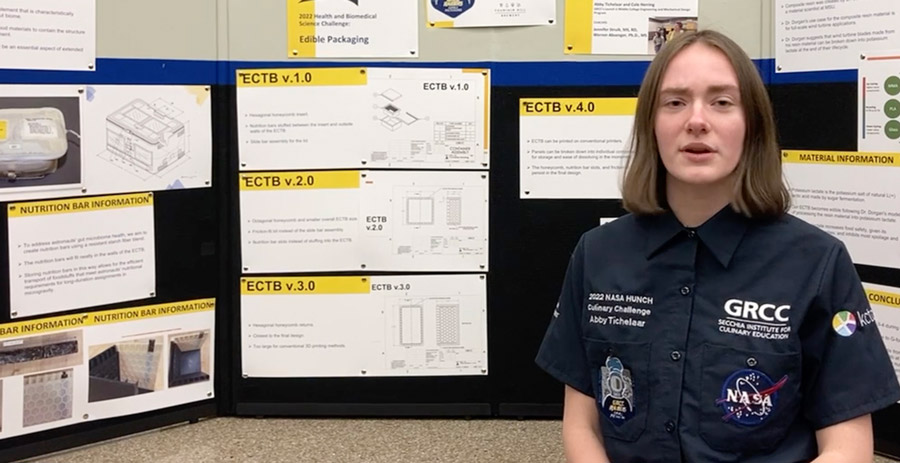 The 'Hunch' Moment
GRCC professor Arthur Ward brought up the competition to Cole and Abby, who are in Launch U's Middle College Engineering and Mechanical Design program. In the Health and Biomedical Science category, participants chose projects based on needs for future NASA missions. Out of six potential projects, the pair decided to focus on edible packaging.
GRCC Secchia Institute program director Werner Absenger, who coaches the GRCC NASA HUNCH team with institute instructor Jennifer Struik, told the students about a composite resin created by Michigan State University material scientist John Dorgan's lab.
Abby researched the material, which Dorgan used to design wind turbine blades that have to withstand a G-force of 3-3.5. A rocket launching has a G-force of 3-4, so Coby and Abby concluded that a box made from the composite resin would work on a spaceship.
"The material could be broken down into edible material that could be used for gummy bears, or sports drinks," Cole said. "The rest of it that wasn't edible could actually be reused to make anything that you could 3D print.
"So that's when we went, 'Oh, that's great material. Now we've just got to come up with a design for it.'"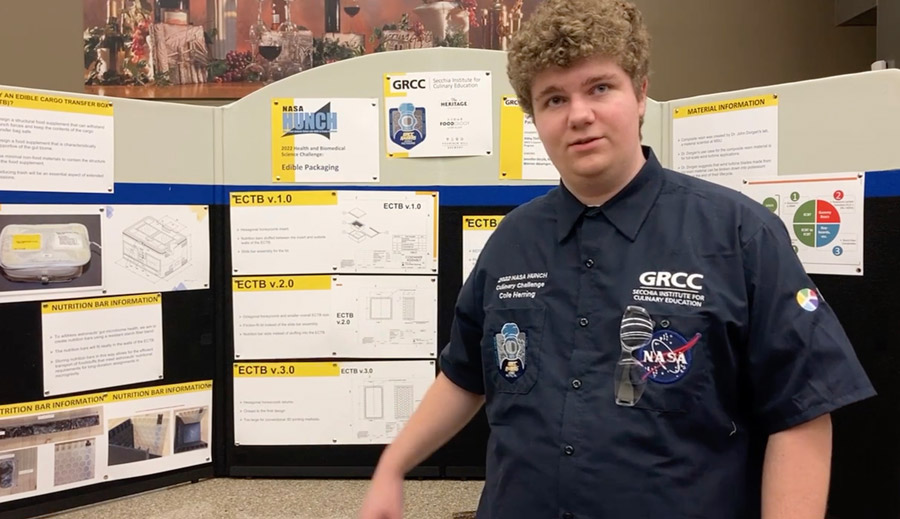 Saving Space in Space
Using the measurements from the original NASA box, Cole and Abby created one with slots to hold granola bars. The goal was to provide the astronauts an easily accessible snack in a container that could be reused for other purposes.
"The box can be broken down into their wall (side) segments, and when you need it, you can build them up to be a box and when the box is empty, you can break them down to save space," Cole said, adding that a spacecraft does not have a lot of extra room for items such as empty boxes that have no other purpose.
By using the composite resin, the box's sides can be placed in a chemical bath that dissolves them into reusable and non-reusable material. Removing the non-reusable material and adding an alkaline solution such as baking powder separate out the lactic acid, which can be used to make edible items such as gummy bears.
"Each wall segment can be broken down, so the astronauts don't need to take the whole box and break it down at once," Cole said. "They could break down half a box, and the other half could still be used for granola bar storage.
"Once they're through with the granola bars and there's absolutely nothing else to do with that (box) panel, they can just dissolve it, get the edible material out of it, and then they can reprint whatever they need because they actually have a 3D printer up there (in the space station.)"
Through the project, Cole said, he could see other potential uses for Dorgan's composite resin, such as using it to build the rocket ship itself.
"I wouldn't want to make the assumption that it could be done, but I mean, if it could, that would be really great because instead of a bunch of waste orbiting us, we would have edible rockets that we just break down and eat and stuff."
More from Kent ISD:
• Raising recognition of career and tech ed
• First taste of career exploration: hydroponically delicious