Photos by Dianne Carroll Burdick
All Districts — Spoken somberly, one by one, the names of 175 students, teachers and others killed in school shootings since the Columbine High School massacre in 1999 hung in the air.
"Remember Their Names", a memorial event held Saturday at Rosa Parks Circle in downtown Grand Rapids, honored victims of 16 U.S. school shootings with readers speaking each of their names and speakers reflecting on the tragedy behind their lost lives.
"It's an honor to be able to speak the names of those lost to gun violence and bring awareness to it so hopefully these events will come to an end," said Grand Rapids Montessori senior Sammy Leggett. "It's a very big issue that takes a toll on mental health…It's been in the back of our minds every day that we go to school."
Name readers included Sammy and fellow students from Grand Rapids Public Schools City High and Grand Rapids Montessori, Rockford and Cedar Springs Public Schools, Michigan State University, the University of Michigan and an alumna from Virginia Tech University. 
Speakers included George Heartwell, former Grand Rapids mayor and Ferris State University trustee; U.S. Rep. Hillary Scholten; Michigan Senate Majority Leader Winnie Brinks; MSU student Charlotte Plotzke and The Rev. Joe Jones, pastor Brown-Hutcherson Ministries and Oakland University trustee.
The purpose of the event was "to humanize the victims, to realize these were real people," said Jeff Cranson, who co-organized the event with his former Grand Rapids Press colleagues Charles Honey and Pat Shellenbarger.
"We intentionally did not want this to be a political event. We wanted it to be a memorial, a vigil. Our hope is that people think about the names," Cranson said.
The event came a day after 34 West Michigan school superintendents issued a statement of concern about gun-related deaths of youths. It cites data from Johns Hopkins University, that states firearms are the leading cause of death for children ages 18 and under in the United States.
"These were children in schools who wanted nothing more than to learn."

– Grand Rapids Public Schools Superintendent Leadriane Roby
During the memorial, MSU student Charlotte Plotzke spoke in memory of Arielle Anderson, Brian Fraser and Alexandria Verner, who were killed during the Feb. 13 MSU mass shooting. She spoke of the aftereffects of the tragedy, and the feeling of returning to campus.
"During my adolescence they taught me how to hide," she said. "They taught me what to put in front of my chest. They taught me what to put in my hands to fight back. They taught me how to stack chairs in front of the door. They taught me how to flip over desks as quickly as possible. They taught us how to be quiet and that we should spread out just in case a shooter comes in so there's less of an easy target. 
"They didn't tell me what happens after. They prepared me for the before and during but they did not prepare any of us for the after. How could they?"
Plotze said the gun legislation passed in Michigan recently is the "bare minimum. We need to ban assault weapons. Every state deserves these protections. We need to go beyond the bare minimum."
Speaking Out for Youth
Student readers said it was important to speak out about an issue that has impacted their entire lives.
"I, myself, am very scared of something like this happening at my school. It's actually been a fear of mine ever since I heard of it," said Grand Rapids Montessori senior Andrew Pratt. "I don't want schools to keep going through this. It needs to stop."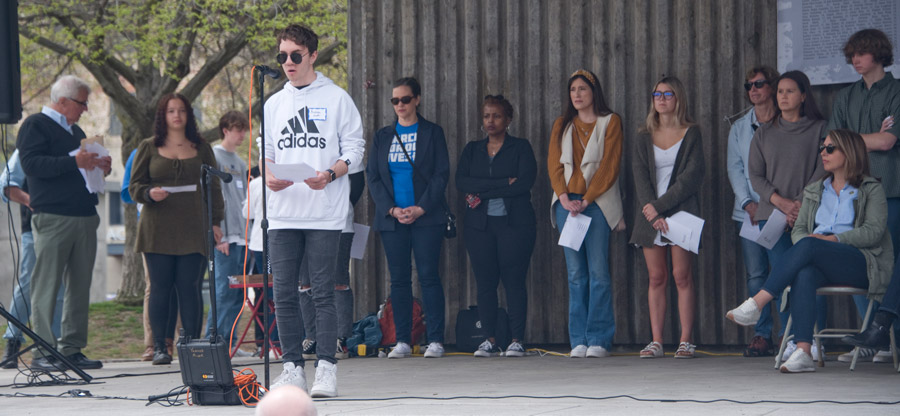 City High School senior Vishnu Manu said he wanted to help spread awareness and call for change.
"Looking back on some of the effects of not enacting legislation fast enough, you can see how serious those effects are, so I'm just trying to play my part in bringing this message to a larger crowd," he said. "Since first or second grade, I remember doing active shooter drills at school. It's become such a part of normal life for all of us that it's hard to imagine a world without any of these dangers being present, but it's definitely a future that we are looking forward to."
City High School junior Gwen Kirkbride said she wants to see laws that protect children. "This has been an issue in recent times and growing up that's been really heavy on my heart. I really want the people that are moving legislation in our state and in our country to see how much this affects students and all of the community around them and to pass legislation that is protecting our lives and stopping more people's lives from being lost."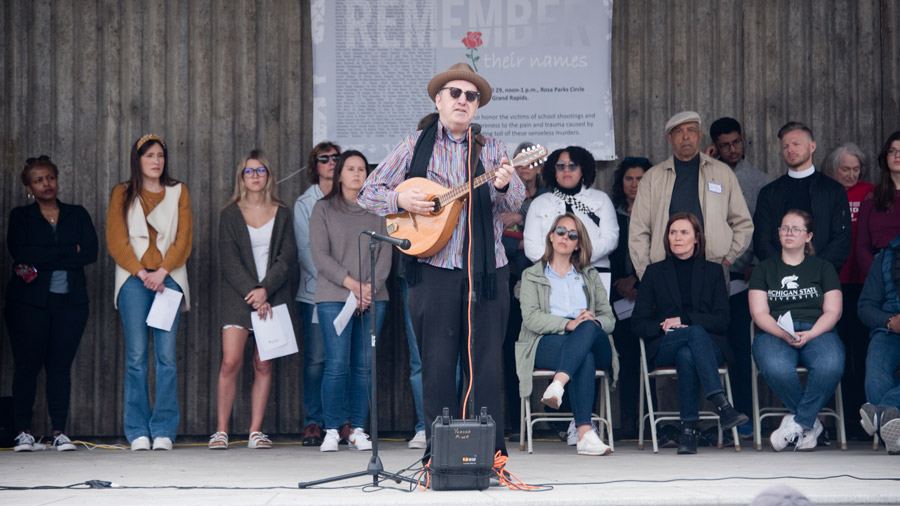 Added City High junior Lena Reeves, "We are not old enough to vote but coming here is a way I can share my voice and opinions on the matter. There are people at my school that in each class they have a plan of how they would get out if something like this happened. That should not be something a student should be thinking about at school."
'Children Should Feel Safe'
Grand Rapids Public Schools Superintendent Leadriane Roby, who signed the superintendents' statement, read names at the event.
"These were children in schools who wanted nothing more than to learn," she said. "We want schools to be safe. There are some sacred places in our community – no matter where you sit with policies and laws – but there are some sacred places in our community where children should feel safe and school is one of those places."