Photos by Dianne Carroll Burdick
Grand Rapids — It's a familiar list to any student who spent their sixth-grade year at Blandford School: the leaf identification project. The bird study. Chicken adoption. Camping. "A Christmas Carol." Frogging. Wildflower tea. Magic spots. The BEEP Bazaar. International Night.
"It's fun to be a BEEP all the time," summed up sixth-grader Janelle Tierrablanca, to which her classmates added that it's a lot of work too.
From their first big project collecting, identifying and displaying leaves, to playing the ghostly characters in Charles Dickens' classic play, to presenting on a country for International Night, the school year is filled with busy traditions that fast become memories at the sixth grade-only specialty school in Grand Rapids Public Schools, surrounded by Blandford Nature Center's spacious grounds. 
"I feel like all the events are going to stick with me forever," added Janelle. That Friday, she and her classmates would participate in one Blandford tradition, called Wildflower Tea, in which they welcomed parents and grandparents to tour the schoolyard while identifying wildflower species before enjoying tea and cookies.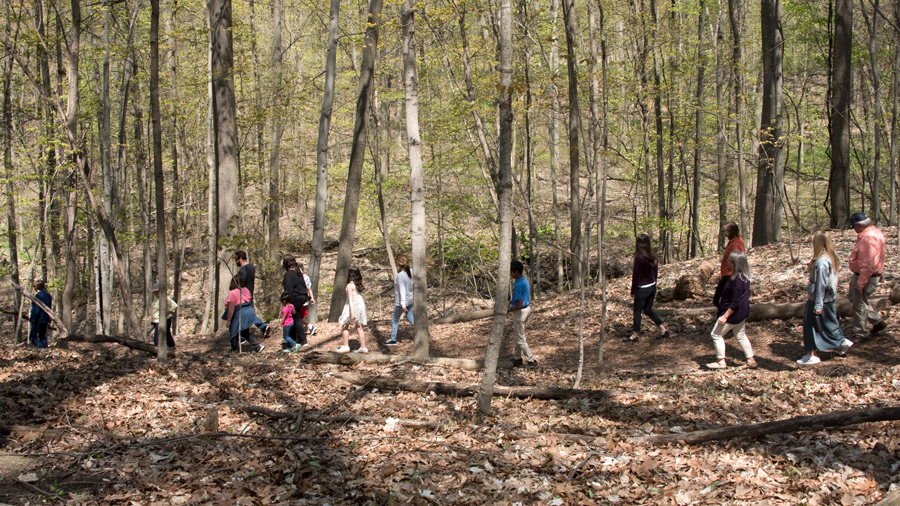 Even the acronym BEEP — the moniker long used for Blandford Environmental Education Program students — is synonymous with time-honored lessons, events and activities that are as much a part of the curriculum as reading, writing and math.
"One of the magical things about being a teacher here is some of the connections we can draw from past years, and then have conversations with the students about 'What are we doing this year to leave behind a legacy that can be picked up on in the future?'" said Nick Maodush-Pitzer, also known as"Tex," who teaches Blandford's 60 BEEPs along with Stacy Oldenberg, also known as "Mr O" or "Maestro," splitting their time between two classrooms of 30.
"There are a lot of these curriculum traditions we honor from the past," Maodush-Pitzer added. "We modernize, update, modify to keep up with the times and to keep everything relevant."
Those connections have been made over the past half century among approximately 3,000 current and former BEEPs. Many of them are expected to come back for the school's 50th anniversary celebration Saturday, May 20.
Blandford School will celebrate its 50th anniversary from 3 to 7 p.m. Saturday, May 20 at the school, 3143 Milo St. NW, with food, music and festivities. The open-house style gathering is free, but organizers would like people to RSVP online.
See details
"It's 50 years old, so I believe I speak for all of us when I say we feel really lucky to be here," said sixth-grader Ishaan Vutla.
Fellow student Estana Triggs considered Blandford when it began, sans technology and their school building. Yet, a lot is the same. "It keeps the same spirit, the same feeling," Estana said.
A Special Year That Flies By
On a recent morning before school, students roamed around on the Blandford Farm where the school is located, chatting, reading and retrieving a football from the school roof with a large stick. Maodush-Pitzer peered out the window from inside, describing the uniqueness of the Blandford experience.
'Part of that magic of being a teacher at Blandford is that the experience here is kind of like a microcosm of life.'

– teacher Nick Maodush-Pitzer
It's his third year teaching there, but he was a BEEP in 2004-2005 and completed his student teaching there. The nickname,Tex, bestowed on him for wearing a cowboy hat in sixth grade, has stuck with him ever since.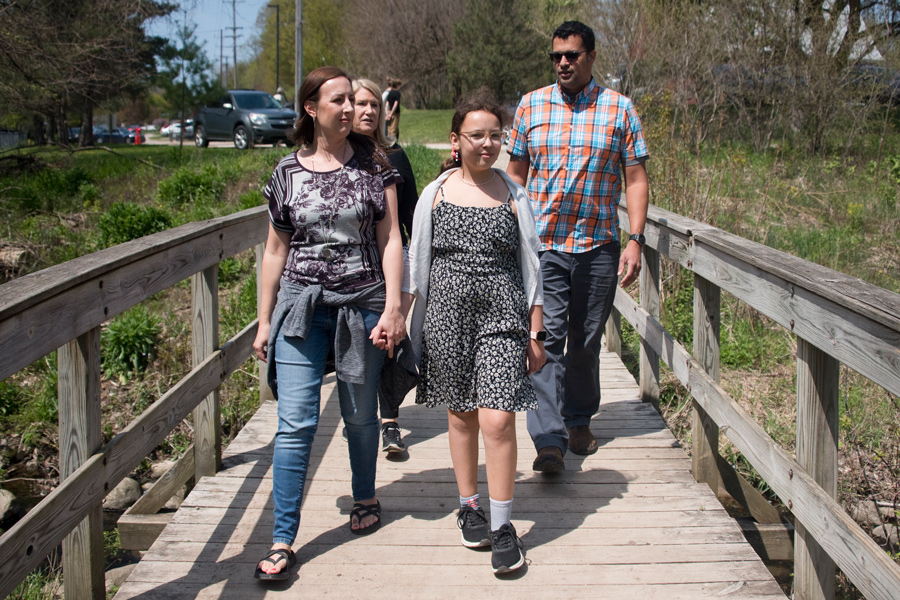 "There's a huge draw to Blandford because of the environmental nature of the programming that we do," he said. "The beauty of that is we have this wonderful place to do place-based education. While hitting all of the curriculum we have to hit, we are also incorporating a lot of units of study that have to do with getting to know the natural world around us."
'I  feel like all the events are going to stick with me forever.'

– sixth-grader Janelle Tierrablanca
Blandford School first opened for the 1973-1974 school year in a room at nearby C.A. Frost School, 1460 Laughlin Drive NW, with 28 students, said Rick Gillett, who taught there from 1975 to 1999 and created the curriculum. Blandford Nature Center founder Mary Jane Dockery had written about the need for children to have a field trip every day. Thanks to a donation to the district for gifted education, Blandford school was able to start onsite and make that a reality. It was housed for 20 years or so in modular units until the current school opened in 2013.
"We developed the idea of using the outdoors as our living textbook," said Gillett, whose teaching partner for many years was the late Adela Beckman. It was during his tenure that many traditions became embedded into the Blandford school year.
"The opportunity to be with kids and to be outdoors is probably my greatest memory," said Gillett, who plans to attend the anniversary celebration. "Watching sunsets at night along the lakeshore is pretty incredible with kids."
When he sees former BEEPs he often hears the same thing. "It's incredible to me that so many of them talk about it as being their best year in education."
He said the school demonstrates an important need that will always exist for children.
"It really says something. Even with the changes in our world today, kids still love to be outdoors," said Gillett, who after Blandford helped start the Goodwillie Environmental School for Forest Hills Public Schools. "There's magic in seeing something in the wildlife or looking closely at a leaf or tapping for maple syrup and having that sweet sap coming out of the tree or looking at snowflakes under a microscope. … Kids still find it very magical."
A Year For Growing Up
From the beginning, the Blandford year has culminated in a serious camping trip. While Isle Royale proved a little too intense for the very first BEEPs, students have taken weeklong trips to Manistee National Forest, complete with canoeing, exploring dunes and woods for the past 49 years.
"It's like the ultimate graduation experience," said Maodush-Pitzer. "The whole school year is preparation for spring camp.
"Part of that magic of being a teacher at Blandford is that the experience here is kind of like a microcosm of life. There are a lot of lessons we learn in resilience and just working on multifaceted skills that go beyond what is covered in many traditional classrooms."
While Oldenberg just started teaching at Blandford in November, he's had four of his own children go through the school since 2015-16. He's volunteered teaching music since his first child started there and was a paraprofessional for three years. The experiences have had a big impact on all his children.
"Sixth grade is a very formative year," Oldenberg said. "It's this family concept we have here with the kids. It's really teaching them life skills as far as being part of a team and supporting one another. It's a perfect time when kids are still children but their minds are growing and expanding.
"We talk about the Blandford family that we are cultivating together," he added. "How do we support each other and make sure we are making the best use of this short time that we have, because it's one short school year and it goes so fast."
Janelle is savoring the moments and lessons along the way.
"I feel really grateful that I know about flowers and birds and amphibians. I never knew about nature before, but now, I can walk around and point something out because I know what that is."
Explore more unique video stories of students learning, interesting school programs and educators working to help all children succeed.
More on Blandford School and Blandford Nature Center:
• Blandford Expansion Grows Nature's Learning Lab for Students
• Student-run Chicken Biz Begins with Serenade