Grand Rapids — Kindergartners nibble dandelion cookies in Stephanie Nielsen's Shawmut Hills Elementary School classroom on a Friday afternoon.
Seated at a kid-sized table, classmates Bryson and Willa are eager to share a cookie and their recipe.
"You need 10 dandelions, butter, honey, sugar, and then you stir it, bake it, and then when you're done baking, let it cool off, then you eat," says Bryson as he finishes up his cookie. Then, wistfully, "I wish I could have more."
"Dandelions are edible," clarifies Willa, seated next to him.
The cookie baking and cooling happened that morning, and now it's time for a quick snack before storytime on the rug. The book, "Lola Plants a Garden," includes a few rounds of a song similar to "Mary, Mary Quite Contrary," and students sing and clap along.
Then, it's time to head out to Shawmut Garden, a small plat of land bordered by a whimsically painted fence and bursting with colorful tulips. On the way, Nielsen's kindergartners walk in a row behind her, with three of them helping push a wagon filled with gardening tools.
'We are constantly building on each other's work from years past and also planting seeds for future generations.'

— kindergarten teacher Stephanie Nielsen
Nielsen weaves nature into all parts of her school day. Reading, singing, math, science and snack-time activities all involve or reference resources surrounding them.
"Shawmut Hills has a beautiful schoolyard," Nielsen said, describing the northwest Grand Rapids greenspace blooming with flowers and foliage and home to stately sycamore trees. "We have very diverse nature around us — great biodiversity."
Bloom Where You're Planted
Nielsen was recently named the Region 3 Michigan Teacher of the Year. During the selection process, she gave a presentation on her passion: place-based education.
The approach roots education in the community and involves real-world experiences through local resources and partnerships.
"It's about utilizing our schoolyard, making learning as relevant and as local as we can," Nielsen said. "We've seen huge engagement here with it. Students are excited to learn and they make so many cross-curricular connections, which has been incredible."
For Nielsen, it also means baking with dandelions and wild violet sugar, tapping trees for sap, foraging with a local expert, identifying plants and helping a garden grow and flourish with vegetables that can be sent home with families come harvest time.
"Being outdoors helps develop a healthy nervous system and being in a space where students can play and experience joy and create their own experiences — to just experience the world around them (benefits them) … I try to make learning as interactive and engaging as possible."
Nielsen, who started teaching at Shawmut Hills in 2016, became immersed in place-based education after GRPS joined with community partners to create the Grand Rapids Environmental Education Network. She began working with district environmental coach Sally Triant, who led professional development on the approach with the Groundswell Stewardship Initiative, a coalition of community partners and educators.
"I was able to put a name to what I was already doing and also got inspiration and ideas to do more," she said of the partnerships.
Nielsen had already dug into the overgrown school garden, bringing it back to life and eventually inspiring first- and second-grade teachers to tend it with their students as a "growing classroom." Other grade levels then began to use it for reading, journaling and observation.
She credits retired teacher and school volunteer Gloria Cangelosi, who first planted the space years ago as a tulip garden. Nielsen is reminded of her work each spring.
"I love the tulips that pop up there every year. They are a reminder that the seed was planted long ago to use as a learning space and childrens' garden," Nielsen said. "I love that metaphor; that we are constantly building on each other's work from years past and also planting seeds for future generations."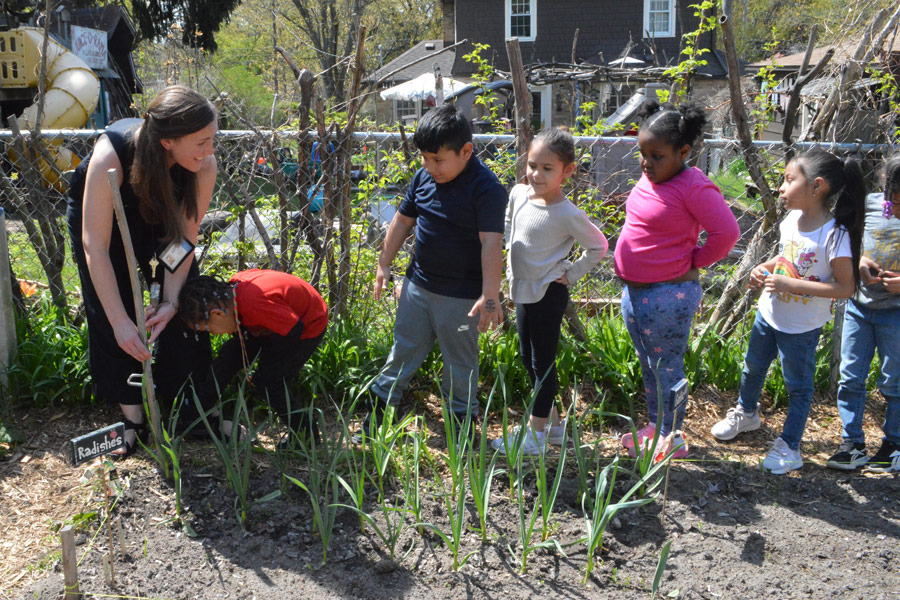 A Spark that Ignites Others
As the garden came to life, Nielsen's co-workers soon took on their own projects and the school applied for some grants to fund others. The school leadership team later named place-based education as the focus at Shawmut Hills. Teachers have done book studies on the approach and Nielsen has led professional development.
"You can go around our entire building and everybody is doing something that is place-based," she said.
That includes the students who are creating a tree tour with ID tags and a field guide on plant life and pollinators. Others have taken charge to clean graffiti and spruce up the school grounds.
"I love that Shawmut makes students feel like they can truly have an impact and they can make positive change," Nielsen said.
Shawmut Hills Principal Tim Mabin described Nielsen as filled with vitality that spreads "like wildfire" throughout the staff, with a spark that ignites others' passions. He nominated Nielsen for the district's Jean Hamilton Cope Teacher of the Year, which she won in October. Due to that award, the Michigan Department of Education invited her to apply for the Michigan Teacher of the Year.
"Stephanie Nielsen seems to be a boundless font of energy specifically directed toward doing things that are valuable to kids," Mabin said. "She is a natural leader. She wants to initiate things and make things happen for kiddos."
Environmental coach Triant described Nielsen as an "angel among us".
"She inspired the whole school to adopt place-based education," Triant said. "Pre-K through eighth grade are doing incredible lessons because of the one she started … Stephanie is a leader in the school and the district and, obviously, in the state now. She's amazing."
Spreading Her Roots
Nielsen, who grew up in Mason County, received her bachelor's degree from Ferris State University and master's degree from Grand Valley State University with an emphasis on early education. She taught fourth grade at Brookside Elementary in GRPS before coming to Shawmut Hills to teach kindergarten.
"They really keep me on my toes," Nielsen said of her students. "I feel energized being around kindergartners. I love their genuine curiosity about the world and how naturally interested they are in everything around them. They are just excited to learn.
"They also still kind of think their teacher's a rockstar … They just lift me up every day. They are so genuine and honest. They also require a ton of energy!"
In her role as Region 3 Michigan Teacher of the Year, Nielsen will serve on a leadership council with other region teachers, as a voice for students, educators and community members, along with eight other Region Michigan Teachers of the Year and Michigan Teacher of the Year Candice Jackson. She is required to attend one State Board of Education meeting to present on a topic.
Along with place-based education, she is also an advocate for trauma-informed practices, mental health resources, social emotional learning and early childhood funding beyond preschool.
"What I see with early childhood funding is that it kind of stops at pre-K," she said. "I would like to see more focus given to early childhood up to 8 years old — (because) that's really what early childhood is, from birth to 8 years old — and making sure our programs are developmentally appropriate for those age levels as well."
Their Place
On that sunny Friday afternoon, a half hour before dismissal, Nielsen's kindergartners are planting pea seeds inch by inch in the tilled soil. They stick their thumbs into the dirt to make holes for each seed. They wiggle and squeal at the sight of bugs, and consider whether spiders can jump or not. They sniff newly opened tulips and shriek at ants.
Ellie writes the word "peas" on a stick to indicate where their seeds will soon sprout. Aniyah writes the date. Several kindergartners help water the soil, watching it pool and then then sink into the garden.
All the while, Nielsen counts seeds and inches with the children and gets them talking about the sun, water and soil — everything around them. It is their school, their garden, their place.
The session ends with a directive from the students, who will return again soon to check on their peas.
"Grow, seeds, grow!"
Read more from Grand Rapids:
• Seeing themselves in the doctor's coat
• Rider's experience guided by love, respect for horses