Wyoming — Sixth-graders at Wyoming Intermediate School got a lesson in geography and old-school letter writing recently, thanks to an envelope that showed up in teacher Autumn Glysz's mailbox.
Glysz received a letter from sixth-grader Maddox Harvey, of New Kensington, Pennsylvania, kicking off the The Great Mail Race in their classroom. After reading about Maddox's request for letters in return — and for Wyoming students to keep the race going — she challenged her students to send their own letters to schools across the U.S.
They all also wrote back to Maddox, answering questions about their school, favorite hobbies and sports.
With letters sent to two dozen states, the race from classroom to classroom and teacher to teacher across the country continues. As Maddox did, students included a survey with their letters on details about their school, Michigan, and several fun facts. They have received a letter back from Maddox's class as a whole, and are eagerly awaiting their own return letters.
"It was a very fun experience," said sixth-grader Ani Nguyen, who described her love for biking, math and reading in her letter. "I love the part where we included our personality traits and our hobbies."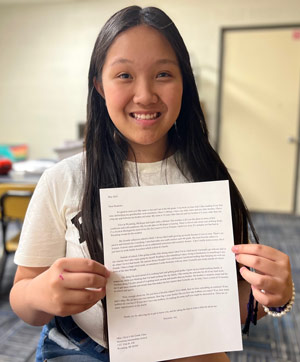 Ani kept things close to home, writing to nearby Holland Middle School. "I have written numerous letters, but this one felt a little different because I was writing to someone I didn't know," she said.
Added Taliah Robinson: "It was very interesting because we got to learn how people sent letters back in the day." She wrote to a school in Chicago, explaining her love for her dad's homemade macaroni and cheese and the colors red and pink.
Jaylen Love wrote to a school in Oklahoma City about basketball and his two dogs. "I like the shape of Oklahoma. It's like a pan. I like cooking and that makes me want to go there," he said. "I hope to learn what they like – food, favorite colors, what they like about Oklahoma, if they like their city and fun facts about their school."
Ani said she loves the idea of writing more letters and sending them through snail mail. "I hope that it gets to be normalized because nowadays we don't always get the opportunity to write letters due to phones and technology.
"I like the shape of Oklahoma. It's like a pan. I like cooking and that makes me want to go there."

— sixth-grader Jaylen Love
Glysz said students learned about different states, cities and climates, and hopes they learn a lot more through correspondence. She plans to continue the race next school year and eventually have pen pals.
"I hope to have them learn similarities and differences between places and countries. Are they doing the same things we are doing? Are they interested in the same things?
Glysz said students put their hearts into their letters, adding lots of details about themselves and their school. "These are some of the best papers I have had all year."