Cedar Springs — Cedar Springs High School band director Matt Nabozny often starts his class with an original routine warmup song.
This year, his students have watched this familiar tune become the music of the school's brand-new alma mater, "Beloved Red," which Nabozny wrote with choir director Linda Tata.
Students in the band and choir will perform the alma mater in front of the Cedar Springs community for the first time at the school's graduation ceremony on Thursday.
Junior Madison Gene, who plays trumpet in the band, said she hadn't expected the song to evolve into anything more than a warmup.
"To see it become something that's going to be continued for years is going to be really exciting," she said.
The idea to write a new alma mater song emerged last year, when Nabozny was new to his role at the school. As he was getting to know the district, he learned from Tata that Cedar Springs had no alma mater (a song or hymn representing a school).
The two then agreed to write one, with Nabozny composing the music and Tata writing the lyrics.
"Our alma mater is 100% original, not derived or arranged from an existing alma mater or tune," Nabozny said.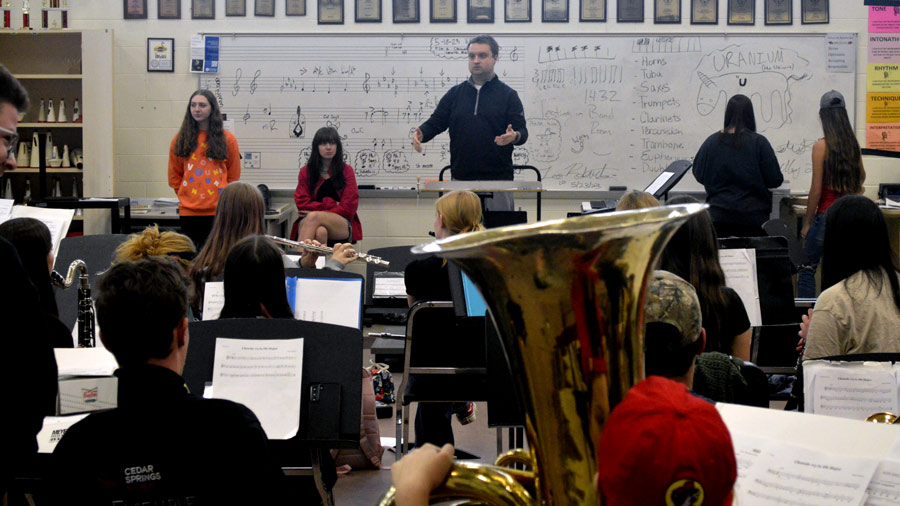 Unity, Tradition and Pride
After Nabozny developed his warmup piece into the alma mater's music, Tata spent 10 days finding the right words.
"I really wanted the music to inspire the lyrics," Tata said.
'It's really cool to imagine this song being played and sung by CSHS students in 30, 50, even 100 years from now.'

— Linda Tata, choir director
The finished lyrics highlight unity, tradition and pride:
"Through the years we've worn the Red
So beloved to our town.
We've traditions that have led
Our school to great renown.
Cedar Springs, we're filled with pride.
May we Red Hawks ne'er divide.
Unite us as we sing this song
Together, side by side."
The "Red" referred to in the first line, as well as in the title of the song, is inspired by the annual Red Flannel Festival in Cedar Springs.
The school district already has a fight song that is used for events like sports games and pep assemblies, but the alma mater offers the opportunity to sing a school song with "beauty and reverence," according to Tata.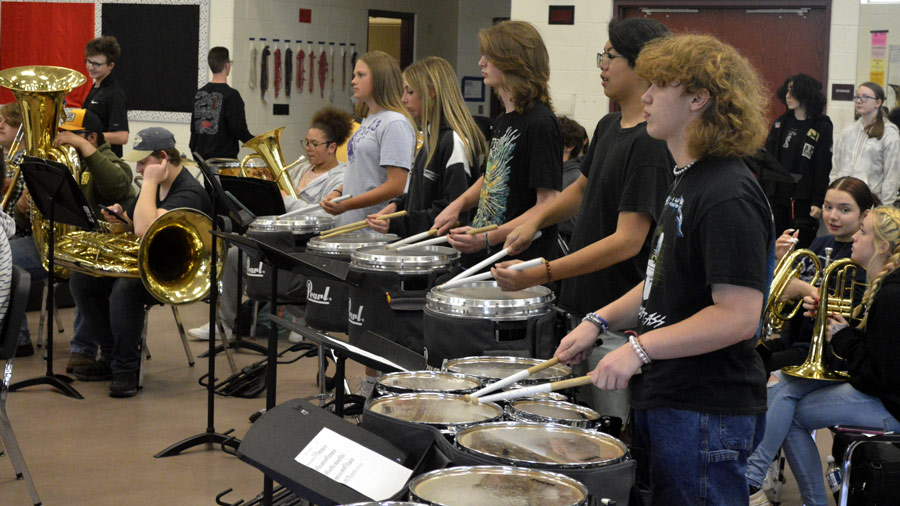 The choir director said she feels grateful to be part of the team bringing the song to the school.
"It's really cool to imagine this song being played and sung by CSHS students in 30, 50, even 100 years from now. I hope it is a tradition that lasts long after I'm gone," Tata said.
Students also reflected on the future of the song: "I feel honored that I get to be in the first group that gets to play it," said freshman Alanna Smith, who plays the bass clarinet.
"Beloved Red" may be new, but it won't be long before Cedar Springs high schoolers start singing the alma mater "together, side by side."
Read more from Cedar Springs:
• A dose of reality
• Isaac Newton never imagined this