Northview — The upbeat but mellow-sounding music loop created on a Chromebook by fourth-grader Quinn Harlow made his classmates instantly bounce their heads and tap their toes.
"I like the marimba sound going on in there," said teacher Lou Sinigos. "And that's a terrific beat."
Axton Grifhurst's loop was evocative of rhythm and blues music, and included some whispers of rap. "And we haven't even got to using microphones yet," Sinigos pointed out.
And Lillian Zabielski's piece, which could have been the opening to an Oscar-winning motion picture soundtrack, frankly, gave one visitor honest-to-goodness goosebumps.
Thanks to grants from the Northview Education Foundation and East Oakview's PTC, all students at the K-4 elementary school will be able to study music theory in a kid-friendly way.
The grants paid for 24 MIDI controllers, which look like keyboards but do not transmit sound. Instead, students use them to create music on their Chromebooks using Soundtrap for Education, an online, cross-platform digital audio workstation. Younger grades will use the free Chrome Music Lab.
The controllers allow an entire class at a time to explore music composition and strengthen theory skills. Students select instruments, tap out beats or chords on their computer keyboards or the MIDI controllers, create multiple tracks and put them together. (Watch a tutorial here.)
"The standard of creating can be difficult to fit into the curriculum of a busy elementary music school year," Sinigos said. "(The equipment) allows students a pathway to musical success that may not be achieved through singing or playing instruments. I think this fits the typical 'garage band' musician perfectly, with extensions to all other budding musicians, and even those who will not perform in musical groups after sixth grade."
Sinigos explained that keyboard controllers will enhance familiarity with the keyboard and is a visual and tactile reinforcement of pitches, chords, scales and rhythm.
"Even the youngest students can see, hear, feel and play higher and lower notes," he said. "The potential for enhancing music theory achievement is enormous. I am so excited about the possibilities for the next school year. … They just get it. And I absolutely love that."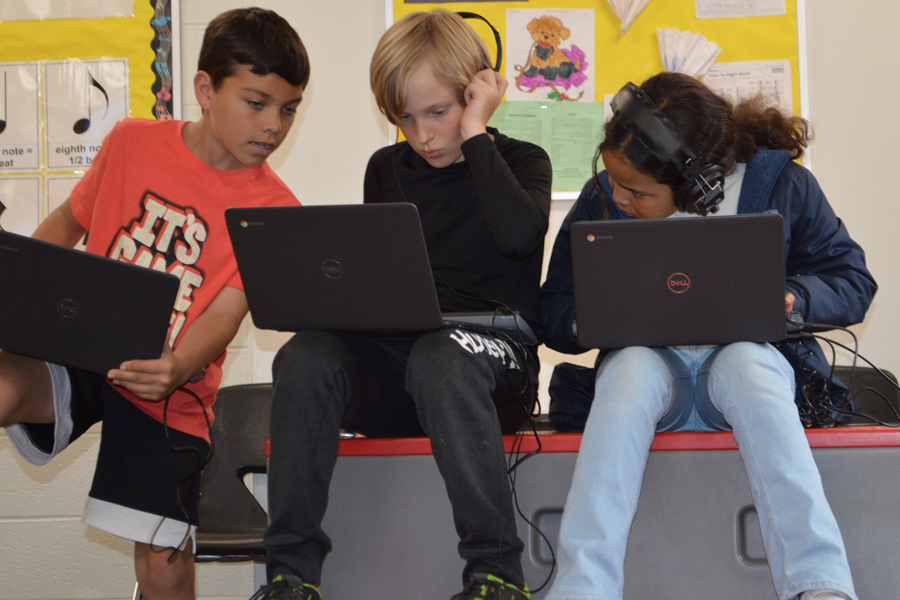 With the new equipment, all music students have an, er, voice.
"I am seeing students blossom creatively that were previously blending into the group when singing or playing instruments," Sinigos said. "Technology is second nature to our kids. And now, through these generous grants, that natural ability allows for more wide-ranging success in music.
"When we share individual projects with the group, it's as if they're standing on stage singing a solo. What a joy to see their faces beam when their music is playing and their Soundtrap creation is scrolling.
"I, too, am beaming. Seeing and feeling the energy in the music room is phenomenal."
Explore more unique video stories of students learning, interesting school programs and educators working to help all children succeed.
Read more from Northview:
• Free to chime in all at once
• A joyful noise for all