Thornapple Kellogg — In busy early elementary classrooms, parent and grandparent volunteers are always helpful to keep energetic young learners engaged and on task. But having a volunteer with decades of experience in education? That's solid gold.
Retired parapro Wanita Huizenga is that kind of volunteer, says McFall Elementary first-grade teacher Karen Seifert. Her students benefit from Huizenga's kind, calming presence each morning as they work on their reading and writing skills in a session Seifert calls "Writer's Workshop."
"I have kids that she works with that need a little extra help. And (Huizenga) already knows what to do," Seifert said. "If I can say, 'Hey, I need you to work on reading these words, or practice blending, or practice phonemic awareness,' she already knows what those terms mean. And she just does it."
'The kids need to know that we're loving on them.'

— Wanita Huizenga, McFall Elementary Classroom Volunteer
After spending 25 years as a parapro in Thornapple Kellogg Schools, Huizenga returned this year to work in several classrooms at McFall, a school for students in kindergarten and first grade. She spent her early career working in an office and then providing daycare in her home, but when her own kids started school, she found a job there too.
"I didn't know that I was going to be (an educator), but I found out that I love children," she said.
Her favorite part of the volunteer job: helping students in Seifert's classroom get unstuck when they experience an obstacle in their learning.
"If they can solve that problem or that issue, then they're able to focus on the learning," she said.
Sometimes students get tearful or upset, she said, but she's there to be a safe person to come to for a hug, to talk, or to problem-solve.
"The kids need to know that we're loving on them," she said.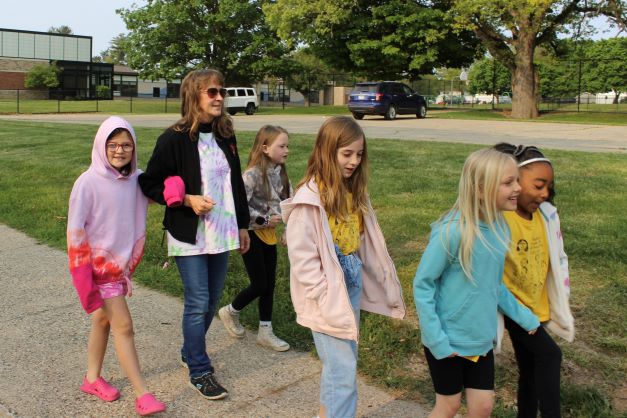 Huizenga is joined by other regular classroom volunteers like parent Megan Engelberg, who also helps with Writer's Workshop, and district grandmother Vicki Salvatori, who reads to first-graders.
"Teachers just do not have enough hands," Seifert said. "And the kids love having them come in — they look forward to it."
Read more from Thornapple Kellogg:
• Big dreams propel TKHS senior to business school
• Buckets of kindness