Thornapple Kellogg, Kent ISD — A mismatch in budget deadlines between the State of Michigan and local districts has left schools waiting for funding for much-needed resources until well into the school year.
The issue at hand involves funds earmarked to help students catch up following the pandemic and for hiring staff members to help do so, say local education leaders.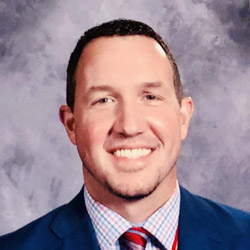 In Thornapple Kellogg Schools, Assistant Superintendent Chris LaHaie, said new Michigan Department of Education grants — including one-time funds for efforts such as learning loss mitigation, mental health initiatives and school safety infrastructure — have become available recently, but confusion over the application process and timeline of fund disbursements have hindered using these funds effectively for many districts.
LaHaie and his team learned in summer 2022 about funding for learning loss mitigation available through the state, but by the time the state's fiscal year began and online grant applications opened in October, the school year had begun. Two-thirds of the way through the school year, in mid-March, they had yet to receive the $51.74 per-pupil allocation.
Additionally, the funds that TKS plans to use for learning software to support reading, phonics and math instruction must be spent by Sept. 30, 2023.
"From a district perspective, we simply want the funds so we may help students close the achievement gap," he said.
The discrepancy lies in the fact that school districts must pass their budgets by July 1, but the state's deadline is Oct. 1. That creates the need for the state to pass supplemental budgets during their current fiscal year in order for school districts to get funding for new programs sooner, said Chris Glass, Kent ISD assistant superintendent of legislative and organizational initiatives.
Glass and Kent ISD Superintendent Ron Koehler are advocating to the state for more efficiency in the supplemental budget process.
"In the past, what's been a problem is (government leaders) will say, 'Hey, we want to launch these programs for learning loss or hire literacy coaches or get mental health supports,'" Glass said.
But by Oct. 1 — when the state can release the funds — school is under way. "By the time the grants become available to districts and the dollars actually get to districts, we're half or three quarters through the school year," Glass said. "The longer they hold them, the less we are able to access, plan and do anything with them."
Districts then often face a tight window in using the funds, he added. "The longer it takes them to get it to us, the less flexibility we have to actually hire and serve kids."
Funding also often comes with spending deadlines. Districts are seeking an extension to spending federal Elementary and Secondary School Emergency Relief Fund, which were allocated in three allotments to use to address many pandemic-related needs.
'From a district perspective, we simply want the funds so we may help students close the achievement gap.'

— Thornapple-Kellogg Assistant Superintendent Chris LaHaie
Thornapple Kellogg Schools did receive grant funding for mental health initiatives ($116 per pupil) and school safety ($117 per pupil) on Feb. 20, and officials are moving to spend those funds. With school safety top of mind for students, educators and families, TKS is able to invest in what LaHaie called a "comprehensive building access control system upgrade."
He just wishes that could have come earlier in the year.
"Had funds been allocated six months ago," he said, "we would be much further ahead in the process of procurement and installation. We are extremely grateful that the State of Michigan has provided this funding, but when it comes to school safety, each and every day counts."
Reporter Erin Albanese contributed to this story
More from Thornapple Kellogg & Kent ISD:
• Buckets of Kindness
• Raising Recognition of Career and Tech Ed