Grand Rapids — Social emotional health, the district's recently implemented backpack ban and access to guns were top concerns parents, teachers and community members cited at a recent school safety and security public forum.
District leaders hosted the event, attended by about 150 people at GRPS University, as a chance for the community to discuss challenges and prepare for the future, share ideas and brainstorm ways to protect children following four incidents of guns found in students' possession at school this year.
"We have the opportunities to invest and upgrade our schools to make them even safer for our children and we want to hear from you as we decide how to spend those dollars," said Superintendent Leadrianne Roby.
The district implemented the backpack ban, no longer allowing students to bring backpacks into school, two weeks ago after, in the span of a week, a loaded handgun was discovered in a student's backpack at Stocking Elementary, and a security officer confiscated a weapon from a student at Cesar E. Chavez Elementary. Last October and again in January, GRPS security officers confiscated guns from students at Burton Middle School.
About 20 people shared their thoughts. Several called the backpack ban a "Band-aid fix." Grand Rapids resident Deborah Clanton called on the community to address parent responsibility and how students are accessing guns, instead of targeting the blame at schools.
"Why are we expecting teachers to raise our students, they are educators. Parents are the role models," she said. "How are (students) getting access to guns and how are they making it out of the house?"
Grand Rapids Montessori Elementary teacher Erin Pilczuk spoke on the stress of managing student safety, on top of teaching, when instructors don't feel safe in their buildings.
Pilczuk said her school was one of 10% of the district's buildings without secure entrances, failing to meet "the most basic need of all schools in our district."
Wafa Adib-Lobo, a GRPS parent of three, said, "I am petrified. When I drop (my kids) off at school, I don't have that sense of security and peace."
Adib-Lobo said she supported the district's use of metal detectors – in place at some GRPS schools – and other physical security measures to keep students safe.
"Inconvenienced children are better than dead children any day," she added.
Leticia Torres, a mother of two middle schoolers, echoed this sentiment because, she said, she "refuses to sit around and wait for a fifth incident."
State Lawmakers Weigh In
State Reps. Kristian Grant, D-Grand Rapids, a former GRPS school board member, and Carol Glanville, D-Walker, attended the forum.
"It's up to our community to come together to decide how we're going to use resources to protect our kids," Grant said. "Technology is great but we're gonna need some mamas, some aunts; we can't pass off all the responsibility to the district."
'Some fixes will happen quickly by adjusting existing processes, while infrastructure changes may take longer … we want to avoid taking a 'fear-based reaction.''

– school safety expert Jason Russell
On May 22, Michigan Gov. Gretchen Whitmer signed "red flag" legislation into law, which will allow individuals, mental health professionals and police to petition a judge to temporarily take away someone's gun, for their own and other's safety. Safe storage of firearms around minors and universal background checks on the sale of all guns in the state were also signed into law in April.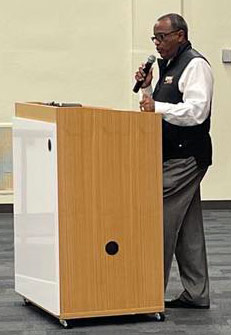 What comes next?
Larry Johnson, chief of staff and executive director of school safety, said the district is also seeking community feedback necessary to apply for part of a $1 million state grant fund to cover staff training on threat assessment and response, safety infrastructure and age-appropriate training for students and families on responsible gun ownership.
"It is important for us to hear (your) voices, even if those voices are different from ours," Johnson said.
The district is also working with school safety expert and former U.S. secret service agent Jason Russell, founder and president of Secure Education Consultants, to assess infrastructure and mental health support in every building and report their findings.
"We've been working on starting assessments in the district and … we're not just looking at locks and cameras," Russell said. "The truest path of prevention is focusing on mental health more than on physical security."
While no students participated, Russell said the district plans to include student perspective in their safety assessment going forward.
"Some fixes will happen quickly by adjusting existing processes, while infrastructure changes may take longer," he said. "We want to avoid taking a 'fear-based reaction.'"
At its May 15 meeting, the Board of Education passed a resolution that will allow Roby to send information about safe gun storage to families throughout the school year.
Executive Director of Communications and External Affairs Leon Hendrix said the district plans to host a second safety forum on June 28, most likely at the same location.
Read more from Grand Rapids:
• It's official: old Kensington school building will come down
• Remember Their Names vigil honors those lost in school shootings