Kelloggsville — Growing up in foster care. A mother in jail, and a father who died.
Dymond Cummings has had a lot going on in her life.
So graduating from high school via Kelloggsville 54th St. Academy is a major milestone for her.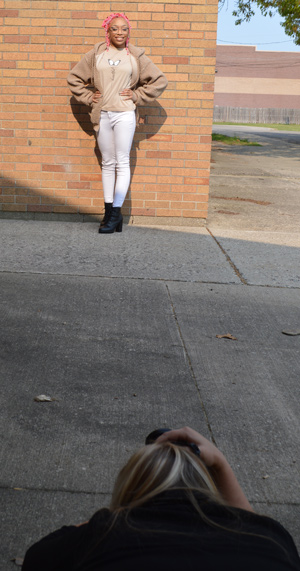 "They're really my second home," Dymond said.
The principal of that second home, Jennifer Sherman, wanted to make sure Cummings and other students in this year's graduating class at the alternative high school have something by which to remember it.
Sherman, a professional photographer in addition to her weekday career, took free senior pictures of the students prior to their graduation May 24.
"I know their whole story. I know everything they've had to overcome. When I'm taking these photos, I'm reflecting on how (far) that student has come," Sherman said. "I've seen them angry. I've seen many of them crying and frustrated and lost hope in the process. I want it to be a reward for them, and I'm just happy to give it to them."
Not to mention, senior photos are not typically cheap.
According to a 2022 article in Grand Rapids Kids, graduation photographs typically start at $125 and can go into the thousands of dollars.
"Senior pictures are an experience they would normally have to plan and pay for themselves," Sherman said. "Plus, it's not always comfortable to be in front of a camera, especially in front of a photographer you don't know. My gift to them is the ease of having this huge milestone documented right here at school, by me: a person they know and trust."
A Full-Circle Moment
Sherman spent the morning of May 17 taking photographs of Dymond and others. This was the third consecutive year she provided free senior portraits for students at 54th St. Academy.
"It's a full-circle moment for me because I'm not just a disciplinarian; I'm their guidance," she said. "I invest everything into them, into their school lives, their personal lives." 
Said Anaisa Jaramillo, "I've been looking forward to everything about this. … I love everything about this moment. It's like that ending moment, but never-ending."
Read more from Kelloggsville:
• No excuses, even in the face of loss
• Students prepare to be "famous" for end-of-year event