Kent ISD — By focusing on teaching being a rewarding field and helping students explore the pathways to get into the education field, Kent Career Tech Center's Teacher Academy has experienced tremendous growth in its first couple of years.
Last summer, more than 130 students registered for The Teacher Academy, with enrollment in the program finalized to about 60 students, which was up from its first year of 36 students. The staff is now three instructors teaching six classes, three morning sessions and three afternoon sessions. This includes two sections of second-year students.
Instructor Laura Castle said during its first two years, the program has developed to give students a better understanding about the field of teaching along with providing skills, college credit and even scholarships.
"The Teacher Academy is designed to inspire kids to choose the profession of teaching and to connect teaching to public service and justice," Castle said. "We have seen that it is an inspiring way to get students to connect by making it about social justice, serving your community and helping others."
Scholarships and Skills
First-year students follow a Grand Valley State University course in foundations and education, earning three GVSU credits. For a portion of the first semester students attend class at the Tech Center. In mid-fall, the students are placed in kindergarten classes within their districts, going there for three days a week.
"What we learned from last year is that students are very motivated to serve their own communities," Castle said. "So we've really tried to tailor the program to the idea of serving your community where you grow up. It's tightly aligned to the grow-your-own mentality. Within their districts, we try to give the students different opportunities."
Second-year students participate in the Michigan Education Corps, where they are trained in research-based curriculum neutral reading inventions.
"I work every day, 20 minutes a day with the same students," said Ava VanderHulst, a West Michigan Academy of Environmental Science senior. "I know exactly what I'm teaching. I know exactly what kids I will be working with and what skills I'm trying to teach them, where they're at and their academic history.
"I feel like I'm a lot more involved now and I feel like the one-on-one sessions that I have with these students are a lot more in depth because I spend so much time with them."
Having that connection is important to Ava as her goal of being a teacher is to serve as a role model to students, a goal that Kent City senior Selena Pablo-Ramirez also shares.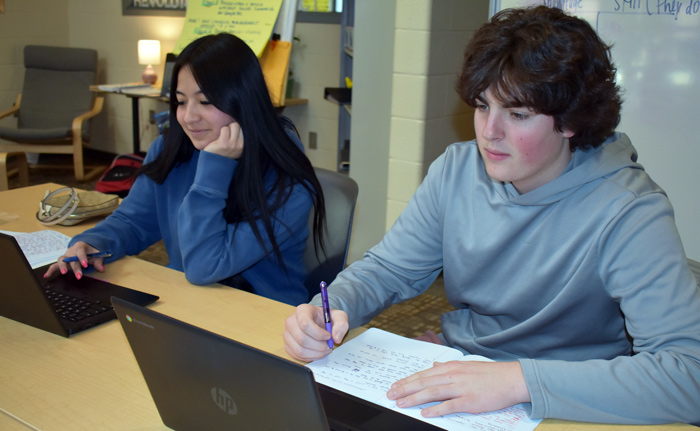 "I wanted to become a teacher because when I was younger, there was no one that was the same" as her, Selena said. "I want to be that someone who is there for the person going through the things that I had."
Students who complete the required hours for the Michigan Education Corps are eligible for a $1,300 education stipend toward college. Castle noted that next year, through a grant, students participating in the Michigan Education Corps also may earn a biweekly paycheck for their mentorship hours plus the scholarship. Staff also is working to add college credit for the second-year program.
'You learn so much more than being a teacher. You learn about being a leader and working with other people, communication skills, and there is so much you gain from it.'

— Comstock Park senior Keiera
A Valentine's Card and Other Rewards
Lowell senior Patrick de Voest said he has wanted to be a teacher since third grade.
"I definitely thought it was a lot easier," Patrick said about the profession. "There's a lot that goes on behind the scenes and a lot of work outside of the school days, and school hours that teachers put in to make it easier for the students."
Lowell senior Ryleigh Wilder said she too learned there was more to teaching than just showing up to class, such as class management and effective ways to teach children at all levels. Ryleigh said through The Teacher Academy, she has seen her skills grow over the past couple of years so that she is able to do more in the classroom.
"Just do it," said Comstock Park senior Keiera Lehan, who was inspired by her music teacher to become a music teacher, about The Teacher Academy. "Don't hesitate even if you have a little bit of interest because this is an opportunity you can't get anywhere else and it is absolutely rewarding. You learn so much more than being a teacher. You learn about being a leader and working with other people, communication skills, and there is so much you gain from it."
Selena Pablo-Ramirez echoed that there are a lot of rewards, but nothing more special than getting a Valentine's Day card from a student stating how he likes hanging around you.
"That was it for me," Selena said of her decision to become an elementary teacher. "That's why I like hanging out with the elementary students. I feel like you can really make an impact with the little ones."
Continuing to Build Pathways
Another goal of the program is to create a smooth transition for students who want to become teachers or go into the education field, whether it is going on to college or starting their career in education as a paraprofessional. Staff works with students to navigate offerings from the state for those pursuing education as a career as well as build partnerships with several Michigan universities.
Those partnerships extend to the local districts, Castle said, adding another goal is to build off of a district's own grow-your-own teacher program.
"What we would like to do here is say if you've completed your program, let's just say in Kent City, you could come to The Teacher Academy for the second-year programming and take advantage of the Michigan Education Corps program," Castle said. "This is to both honor that some districts have their own sites as it's easier for students to stay put in their own high schools, but for the second year, if they really were committed, they could come here for that partnership."
More from Kent ISD:
• Homeland Security cadet academy simulates real-life careers
• Hospitality at the Hospital